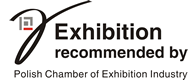 You were invited by i.a.:

10.02.2017
Thank you for taking part in the International Construction and Architecture Fair BUDMA 2017. We hope that the four intensive exhibition days have brought you a lot of inspiration, a good dose of knowledge and an opportunity to meet business partners!
03.02.2017
Already on Monday, merchants representing major retailers from 27 countries (and 4 continents!), will arrive in Poznan, and on Tuesday will begin business talks with more than 800 exhibitors at the BUDMA Fair!
25.01.2017
BUDMA fair is a perfect opportunity to see hundreds of new products and latest technologies in one place!
More news
---

Construction branch fair
international construction and architecture fair budma
See the latest offer of producers and distributors of construction industry.
Windows, doors, gates, foundations, walls, ceilings, floors, roofs, steel construction, finishing materials, energy-saving construction, eco-construction, machinery, tools, ancillary equipment, IT in the construction industry.
B2Budma - the future starts today.
Poznan International Fair is the largest in Poland and one of the fastest growing trade fair and conference centers in Central and Eastern Europe. Among the 80 trade fairs and 400  congresses held every year in Poznan, BUDMA, International Construction and Architecture Fair, is one of the most important meeting places for producers and distributors of modern technologies and building materials with trade representatives, architects, contractors and investors.

BUDMA attracts tens of thousands of professionals interested in innovative solutions in the construction sector, exchange of experiences, gaining expertise, and above all business meetings every year.
Easy way to contact us? Scan the MESSENGER CODE and send us a message!
CONTACT:
tel. +48 61 869 2000
e-mail: budma

Never been to Poznan International Fair before? Take a tour on our virtual trip!