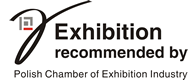 30.12.2016
On the occasion of the forthcoming New Year we would like to thank all our Exhibitors and Visitors, Partners and Friends for their cooperation and to wish them good health,happiness and every success.
22.12.2016
We wish you a peaceful and warm Christmas. Let this Christmas be for you an opportunity to relax, rest and spend time with your loved ones.
16.12.2016
We kindly invite you to visit Poznań International Fair! Here you will find business contacts, novelties and the chance to develop your passions. In the latest issue of Poznan Fair Magazine "Exhibition calendar 2017" we present trade fair events, organized by the International Fair for almost all industries.
More news
---

Construction branch fair
international construction and architecture fair budma
See the latest offer of producers and distributors of construction industry.
Windows, doors, gates, foundations, walls, ceilings, floors, roofs, steel construction, finishing materials, energy-saving construction, eco-construction, machinery, tools, ancillary equipment, IT in the construction industry.
B2Budma - the future starts today.
Poznan International Fair is the largest in Poland and one of the fastest growing trade fair and conference centers in Central and Eastern Europe. Among the 80 trade fairs and 400  congresses held every year in Poznan, BUDMA, International Construction and Architecture Fair, is one of the most important meeting places for producers and distributors of modern technologies and building materials with trade representatives, architects, contractors and investors.

BUDMA attracts tens of thousands of professionals interested in innovative solutions in the construction sector, exchange of experiences, gaining expertise, and above all business meetings every year.
Easy way to contact us? Scan the MESSENGER CODE and send us a message!
CONTACT:
tel. +48 61 869 2000
e-mail: budma

Never been to Poznan International Fair before? Take a tour on our virtual trip!